There is a popular meme going around that neatly captures the tipping point of digital. It asks who is leading your digital transformation. The first two options are CEO and CTO, chief digital officer. Below that, highlighted with a bright red circle, is COVID-19.

How would we answer this question at Tractebel? There's no question that COVID-19 has accelerated our digital transformation as we all rapidly adjust to new digital ways of engineering solutions. It certainly has reinforced our global strategy where digital is one of the "Big Ds" to deliver zero-carbon transitions.
But what does "digitalisation" really mean in engineering terms? What does it look like specifically in the hydropower plants (HPP) where we operate, and for the global companies and local authorities that depend on our solutions?
As I reflect on these questions, I have been thinking about a Hydropower Plant Digitalisation Forum I attended a few months ago. The experience made me appreciate the advantages of digitisation, as well as recognise its limits.
Is it really innovative?
The forum centred around HPP operation and maintenance (O&M) and the optimisation of energy production according to best market price. Everything had a digital theme, but the more presentations and round table discussions I attended, the less real digital change I observed.
Lots of projects were presented as "digital". But are they really innovative? With one software application, for example, a small HPP was optimised to reduce water waste. It emerged, however, that the software only recorded the weather forecast and the reservoir level, providing information to regulate the turbines. This is a well-known and standard procedure. There is nothing new in the control technology. Yet, it was marketed as "digitalising hydropower plants".
Digital tools, but not digitising the power-plant
Other solutions involved workflow optimisations for maintenance-works with digital tools like dive robots instead of divers, drones for inspections, power-suits and 3-D-models of powerhouses for training workers. These tools are very helpful but not about digitalising the power-plant itself. These measures mainly benefit safety and enhance workplaces – they are not specialised or limited to power plants.

Digitalisation for a remotely monitored hydropower plant should complement but not replace regular O&M inspections.
An important insight for me was that real people should always maintain control of the technology – especially the data – and know what is behind the programme. Consider the first chatbots with artificial intelligence (AI) on Twitter. Within only a few hours of testing, the bots had to be taken down because of inappropriate content.
AI clearly still has a long way to go before it is applied to the high stakes of engineering. That is why digitalisation for a remotely monitored hydropower plant should complement but not replace regular O&M inspections.
A digital future for condition-based maintenance?
In order to increase the availability of the power generating units, the common strategy of condition-based maintenance should be further developed. A new approach is to increase the amount of monitoring devices and expand the scope of data collection. The result of this could be to extend the periods between outages – annual outage times, for example, could be modified such that a machine is only shut down when a component actually needs to be replaced.
The question is whether digitalisation in this area would be of value…
| | |
| --- | --- |
| + | – |
| More information on the condition of the plant and, as a consequence, better forecasts about when component failure is imminent and shutting down makes sense | The more sensors and data measurements required, the more error-prone the system becomes |
| Optimisation of machine operation due to longer inspection intervals and reduced outage times | A special program is required for data processing and, in particular, its proper interpretation (needs experience with the system to be accumulated) |
| Control and monitoring of the machines could provide improved forecasting of necessary outages, so that shutdowns can be scheduled also in coordination with the availability of other systems or even on an electricity market-specific basis | This cannot prevent unforeseeable machine failures, shutdowns required under statutory regulations as well as the effect of seasonal dry periods |
| | The value for redundant system components is only limited, since the redundancy can already compensate for failures |
| | The economic value is doubtful |
Whether the benefits outweigh the cost in practice is uncertain. Perhaps some new developments and prospects for optimisation will be forthcoming in the future.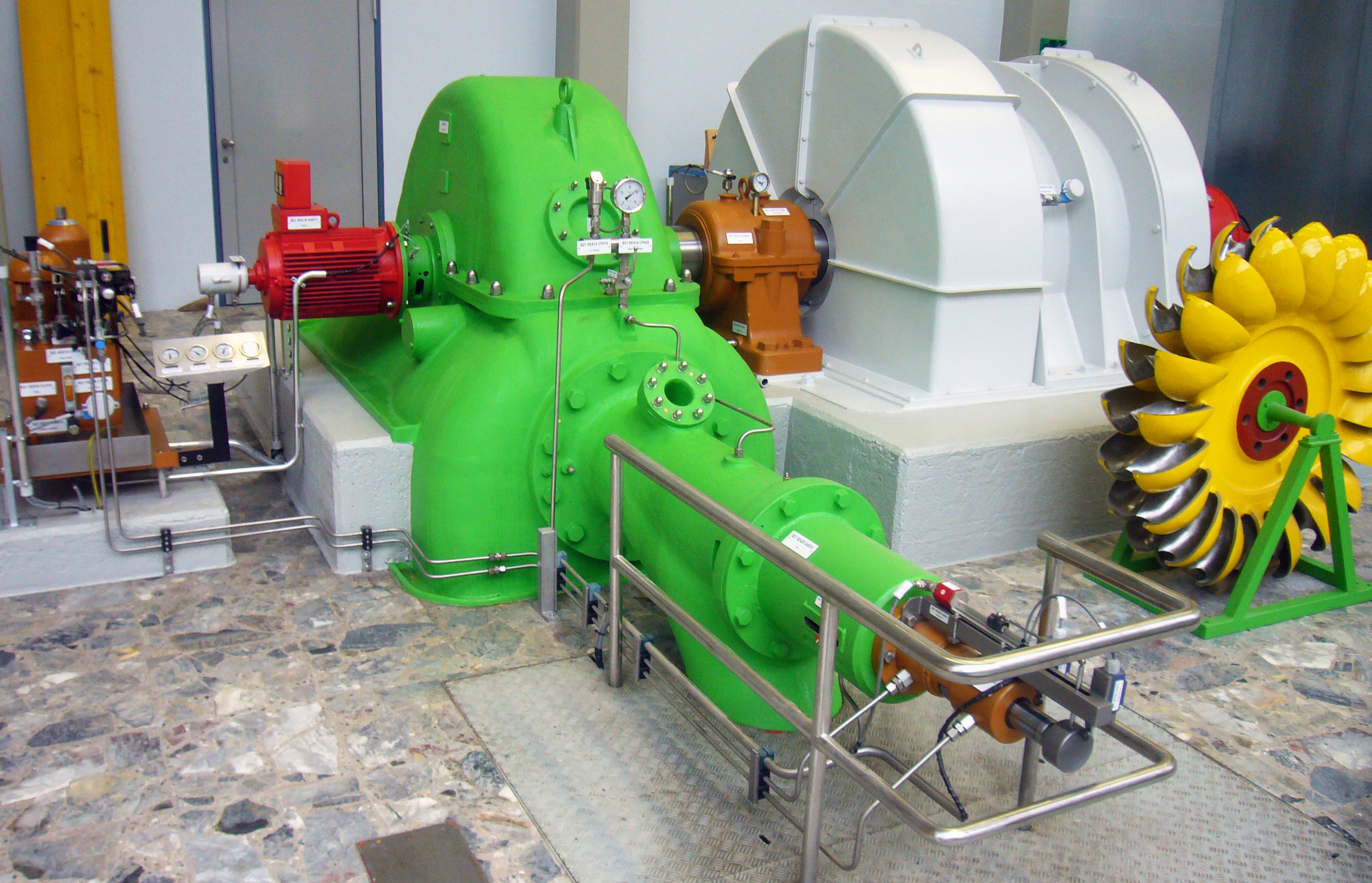 Auxiliary Pelton Turbine of the HPP Bärenburg Switzerland with conventional sensors and measuring devices after rehabilitation (this changeover was already challenging in terms of process control system
More practical digital solutions
So, what did I appreciate about digitalisation at the forum? Top of my list is the use of Building Information Modelling (BIM). It is a technology to gather, store and manage data based on a 3D model of the asset. BIM enables users to work smarter in a connected team with greater project visibility, control and reduced risk.
The integration of BIM is part of our digital transformation at Tractebel and one that is increasingly appreciated and demanded by our clients and public authorities around the world. At the forum, I saw many exciting BIM projects underway with colleagues from Brazil to France that have produced transformative results for clients.
Another top digital solution I observed came from a Brazilian Engie team. They developed a fascinating programme to monitor different HPPs and units with an algorithm. The programme analyses the behaviour of machines to detect abnormal curves in temperature, pressure and vibration. Amongst its many intended benefits, the programme should enable a more rapid and accurate response from engineers.
Digital is definitely the future
My conclusion: digitalisation is the future, but the BIG engineering solutions that will truly deliver digital transformations for hydropower are still under development. At Tractebel, we are at the forefront of the R&D to drive this transformation – I suspect now with greater scale and pace due to COVID-19. The next Hydropower Plant Digitalisation Forum will surely be a fascinating opportunity to see what emerges from this unprecedented time. Let's see what else digitalisation has in store for us in the future…