A brass band is belting out folkloristic Bavarian tunes. Local politicians are all around. Families are sitting on foldable yet robust picnic benches enjoying the hearty local cuisine. Franz Josef Pschierer, the Bavarian minister for energy and economy, is holding a speech.

Today, I attend the inauguration of the battery energy storage system (BESS) in Pfreimd, Bavaria, Germany. This innovative 13.5 MWh BESS was implemented by ENGIE Germany on the site of the Pfreimd hydro power plant group in the Upper Palatine. The existing 137 MW hydro scheme provides 5% of Germany's grid balancing energy. It thus contributes to a secure energy supply. Combining battery and hydropower creates a key project and a possible solution to future energy issues. Why, you ask? Well, the minister said so in his speech. Seems that I listened. At least a bit.
The renewable energies gap
However, this may not be the answer that you hoped for, so let me begin with telling you something about renewable energy. In Germany in 2017, the maximum contribution of solar photovoltaic and wind power was 55 GW while the minimum was only 7 GW – at an average national consumption rate of 60 to 70 GW. The attentive observer may notice, that the gap between the maximum and minimum input is quite high. This is due to the fact that the sun does not always shine, and the wind does not always blow. Renewable energies are volatile. However, the share of renewable energy in the energy mix keeps increasing: According to the Federal Ministry of Economic Affairs and Energy, one third of the energy generated in 2017 came from renewable sources. And we can observe a similar development in other countries.
A trend reversal for CO2 emissions
Let's have a look at a global scale. Up until a few years ago, the growth of the world economy was more or less proportionally related to the increase of CO2 emissions – growth entails energy demand which again entails rising CO2 emissions. In 2015 however, the world economy grew by 3.4% but the energy-related CO2 emissions stayed level. This is a major trend reversal, and expert prognoses foresee a further decrease in emissions. This is a clear indicator for the rise of emission-free renewable energy – a good trend for sure, but it leaves us with a lot of volatile energy. What to do? The transition towards a more sustainable electricity supply requires a more flexible and smarter power infrastructure. And here, I'd like to come back to the BESS inauguration in Pfreimd: Setting up a grid-scale battery energy storage system might be one option among other smart technologies to stabilize the power grid.
Major Trend Reversal: Decoupling of GDP* and CO2 emissions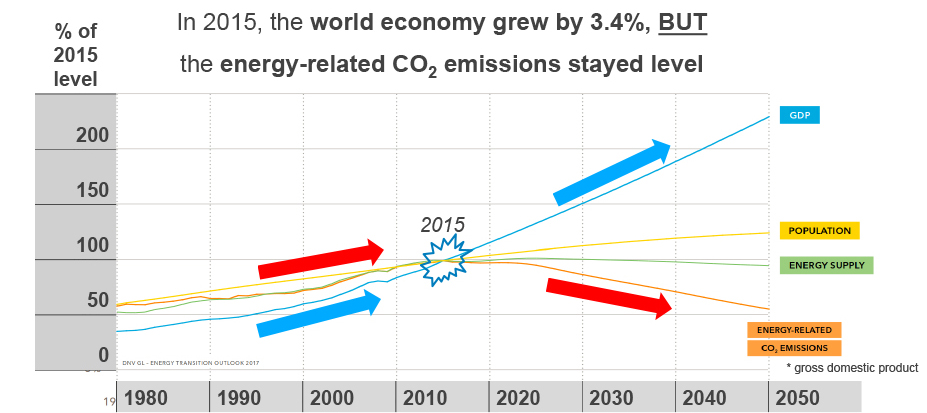 Being in the forefront of energy technologies
ENGIE laid the foundation for this project as early as 2012 when they began to set the pumped storage plants (PSPs) Reisach and Tanzmühle to hydraulic short circuit operation mode – a technology used for grid stabilization. At the same time, they started working on incorporating a battery energy storage system. The good thing with being a part of ENGIE is that we are always in the forefront concerning different energy technologies. Not that we weren't before but it sure doesn't hurt to be able to cooperate with such a major player as ENGIE. So they were working on the BESS and we approached them because, well, we had the expertise concerning energy storage and wanted to contribute to this innovative project. Not surprisingly, ENGIE agreed to cooperate and we were in.
The 13 MWh battery storage consists of 40,000 connected lithium-ion cells in three 45-ft-containers designed to contribute to a securing energy supply with the provision of primary balancing power. Our consulting services included the evaluation of the overall technical concept, the review of the electrical, I&C and safety technology, as well as of the electro-chemical components. In addition, we examined safety functions for the prevention of environmental impacts. In combination with the three pumped storage units operated by the Pfreimd hydro power plant group, the BESS substantially increases the flexibility of the operator when it comes to providing grid balancing energy.
Why is it a key project again?
And this is why the battery energy storage system in Pfreimd is such a key project for the future of our energy supply. In my opinion – and I am not alone with that, let me assure you – BESS and pumped storage plants are natural partners concerning grid stabilization. Battery energy storage systems are characterized by their fast-ramping capabilities. They are ideally suited to stabilize power grids with high renewable energy infeed, as generation/demand fluctuations can be compensated locally. However, they have low levels of energy capacity – and this is where the PSPs come in: They don't reach the fast reaction times of the BESS but they feature a high storage capacity which kicks in when the battery capacity is exhausted.
A drastic drop in battery costs
You may ask why we've come up with this idea just now and not a few years ago. After all, pumped storage plants have been around for almost 100 years now. Well fact is, battery energy storage systems haven't. Or at least they've been far too expensive to be used in this scope until very recently. However, within the last ten years, battery costs have dropped by 75% due to increased interest and deployment in storage for renewable energy integration. The most dramatic cost developments have been for lithium-ion chemistries, driven by the development of the electric vehicle market. Based on the decreasing costs, experts forecast an increase in global battery capacity from approx. 2 GW in 2018 to more than 22 GW in 2025. We're probably going to see a lot more BESSs in the near future.
Li-Ion battery cell cost drop and global capacity forecast
Keeping up with the game
So we are right at the beginning of a very interesting development concerning the handling of volatile renewable energy sources and energy storage technology. Battery energy storage systems represent a game-changer and their combination with high capacity hydropower is more than just promising. Apart from other concepts – like ultra-high-voltage power transmission and smart grid technologies – BESS will play a role in the future power infrastructure including e-mobility.
Back in Pfreimd, the Bavarian Brass stopped playing and the minister is still holding his speech. And actually, it is worth listening to as he seems to be aware of the importance of this project: "The combination of battery energy storage and hydropower is a solution which demonstrates how technology and nature can go hand in hand for securing future energy supply." And what can I say? I couldn't agree more.